Racingdragon Logistics Co. Ltd. is a Professional logistics supplier. With the global vision and the advanced operation management, the company has experienced rapid growth Since established with over 100 clients, of which 95%+ are MNCs.
The company headquarter locates at Waigaoqiao in Shanghai, with offices or branches on HuaiHai Rd., and in MingHang District, and the city of Suzhou and Nantong in Jiangsu province. Through the Inter-modal distribution network to over 250 cities, we provide the road, railway, air freight and logistics solutions to meet the customers' needs. Customer satisfaction is the key to our success.
Racingdragon is your ultimate partner committed to building solutions,one link at a time. Currently, the company has become the logistics supplier of many international companies and a local partner of some well-known logistics companies.
Our excellent team with rich professional experiences offer you flexible,cost effective,fast and reliable service to bring the whole China within your reach.
Our target is: To exceed customer's expectation forever!
Racingdragon has established branches in the 1-tier cities across China, including Beijing, Tianjing, Guangzhou, Shenzhen, Xiamen, Qingdao, Chongqing, Chengdu, Nanjing, etc . The Long-Distance transportation service network covers 250-cities across the whole China.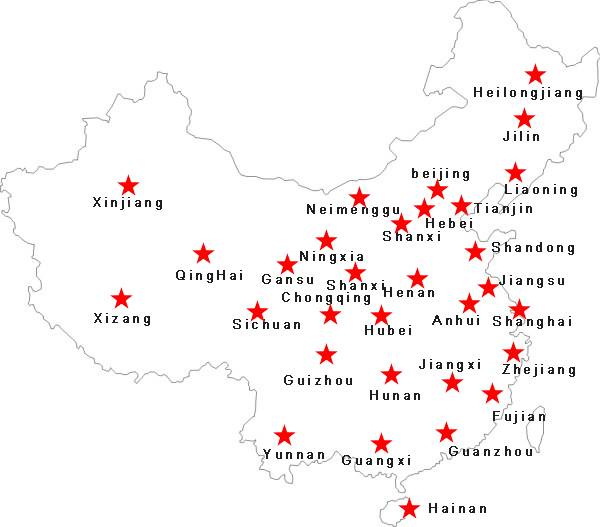 Northern:
Beijing,
Tianjing
,
Hebei
,
Shanxi, Inner Mongolia
Eastern:
Shanghai, Jiangsu, Zhejiang, Anhui, Fujian, Jiangxi,
Shandong
Central:
Henan, Hubei, Hunan
Southern:
Guangdong, Guangxi, Hainan
South-West:
Chongqing, Sichuan,
Guizhou
, Yunnan,
Tibet
North-East:
Liaoning, Jilin, Heilongjiang
North-West:
Shanxi, Gansu, Qinghai,
Ningxia, Xinjiang